Donald Trump is the New M.O.D.O.K. & Hillary is the New Ms. M.O.D.O.K.?!
I just saw that one of my favorite freakiest villains of all time has gotten a new partner in crime via Marvel comic's Spider-Gwen Annual. Yep it seems now that we have a new big headed pompous jerk on the block called M.O.D.A.A.K. whose name apparently means "Mental Organism Designed As America's King". You can see all the typical Trumpisms too in the picture, from his tan face and pink areas around his eyes to his taco bowl he's eating.
I have always kind of viewed Trump as a bit of a real life supervillain, Lex Luthor type of figure & though I don't read Spider-Gwen I totally dig the image of Trump as a M.O.D.O.K. character! It's totally fitting for a dude with an ego as bloated as his. The real M.O.D.O.K. though should be totally offended by this shit though! Now though to be fair I suggest if Marvel is really daring, as it's been the trend everywhere for sometime to rip on Trump perhaps they should give M.O.D.A.A.K. a proper bride like they way back in the spectacular Incredible Hulk #290! I can only nominate that the new Ms. M.O.D.O.K. be Hillary Clinton herself and since I know Marvel will never dare, then I'll do it myself…so here I give you Ms. Hillary "MODOK" Clinton to match her buddy Donald!
 Let's be honest folks both Trump and Hillary deserve to be transformed into supervillains!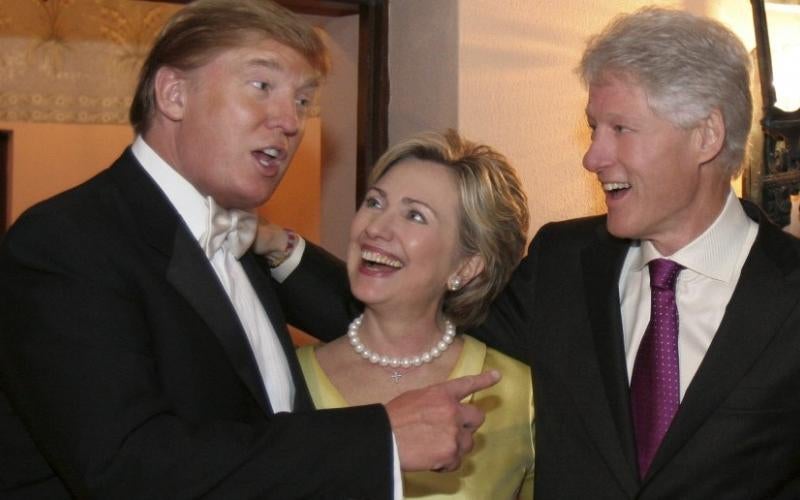 Like one big M.O.D.O.K. family! Perhaps Bill could become a M.O.D.O.K. as well!