Will The Reavers Save Wolverine 3?!
I've been a bit torn lately on the the upcoming third Wolverine movie which is slated to also be Hugh Jackman's last appearance as the legendary mutant. Why? Well ever since we got word of this final flick being based upon the popular 'Old Man Logan' series it's been a major issue that the story wouldn't be able to use the key characters from the comics due to issues with studio property rights. I think they should wait another five or so years to do Old Man Logan, when Hugh IS actually older. I've also stated before that a totally original story would be pretty awesome for the third movie as they seem to almost always slaughter any story they rip from the comic books. I mean how can you do Old Man Logan without the fucking Incredible Hulk?!! Well now there's word that this third movie will feature some classic villains which have me back on board for Wolverine 3.
Yeah Old Man Logan is rumored to feature "The Reavers" who just happen to be some of my favorite bad guys from the X-men comic books. A futuristic road trip Mad Max style Wolverine movie with these blood thirsty cyborgs on their trail sounds fantastic to me! My only concern is that they're also supposedly going to try and bring back Liev Shreiber as Sabretooth….uggh.
I really wish they'd leave that bad memory in the past, I personally can't imagine a worse version of Sabretooth, I actually dug Tyler Mane's version of the character better somehow. I think The Reavers would be more than enough of a threat for Logan. What I really dig about it as well is the idea of Lady Deathstrike getting a second chance to be done right on the silver screen and that just maybe this movie will have a new story to tell rather than trying to cobble together some version of the comic book story with limited film rights to characters. They could still cast Kelly Hu in the role as Deathstrike too to stay true to continuity but this time around we could give her the classic look of the character. Let's take a quick look at just who The Reavers are!
Donald Pierce aka White Bishop, the team's cyborg leader was part of the Hellfire club back in the day and it's been rumored that Richard E. Grant might have landed the role. Sounds perfect!
Lady Deathstrike, let's get a more frightening version of the character this time around Hollywood should stick to her classic look…
Pretty Boy, another Reaver cyborg weirdo who's not so pretty actually but he'd be a fun one visually onscreen….I can see a full on Terminator vibe in this last Wolverine movie.
Reese, Macon & Cole former Hellfire Club Mercenaries who're diced up by Wolverine got a cyborg makeover and later were back for his blood following Lady Deathstrikes orders…
Skullbuster, another key mercenary to The Reavers…  
Bonebreaker, of course no cyborg team is quite complete with out a half man half tank dude to raise the mayhem to the highest levels-I hope they bring this guy into the fold for the movie! Classic!
So there you have it there's plenty of flesh and machine for Wolverine to dice up, also I hear X-23 might be making an appearance in the movie as well, she'd be perfect as she's tangled with Donald Pierce & Deathstrike in the past.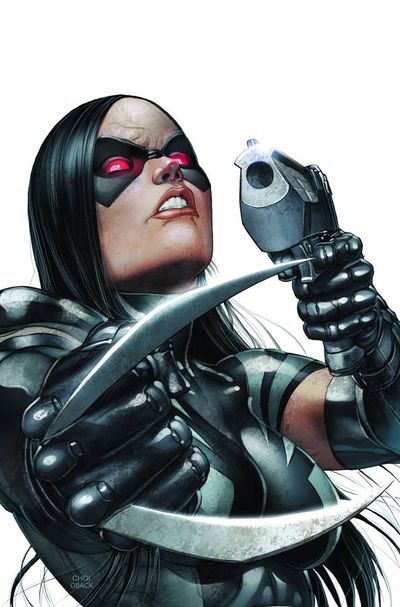 Hopefully we'll finally get the Wolverine movie we've always deserved this time, I just hope at the end of this one he doesn't fight another giant CG robot!