The Dregs is easily one of the most compelling comic books out there. After a amazing first issue this new series from Black Mask keeps this unique mystery building, leaving you with plenty to think about after the last page. We've got one of the most original books on the shelves that breaks the mold of of anything you're likely reading at the moment. Issue #2 starts off with a bang as we follow the exploits of Arnold, a homeless addict who's hell bent on solving the mystery of a missing friend named Manny who's seemed to vanish into thin air from the streets. The first issue also let us in on something incredibly sinister going on in the gentrified area of of the city where it appears that a hip bougie restaurant was serving up plates of food with people on the menu.
I don't want to give too much away about the plot but the second issue delivers the tension, mystery & then some. The opening sequence of it sets a dark tone unlike many other comic book I've read. This series is full on grit and hits some serious issues in our society you rarely ever see in the pages of comic books. Aside from those the story doesn't rely entirely on social commentary to be interesting, it's pages bring about a truly creepy and hopeless air that's hard to shake. The light at the end of the tunnel looks very, very dim at this point. Continue reading →
The Dregs is a new series from Black Mask and the debut issue is great, engaging & totally original read. I love comic books that genuinely bring something new to the table and The Dregs is totally fresh one that at least for the time being doesn't seem like it's been done before. It take place in Vancouver BC and begins an intriguing mystery to life in a city that's rapidly gentrifying. The main character here isn't handsome or rich, we follow a drug addicted homeless man as he embarks on a bizarre journey to find one of his friends who's suddenly disappeared from the streets without a trace. Lucky for us his whereabouts are revealed to us within the first few pages, very unlucky for him though.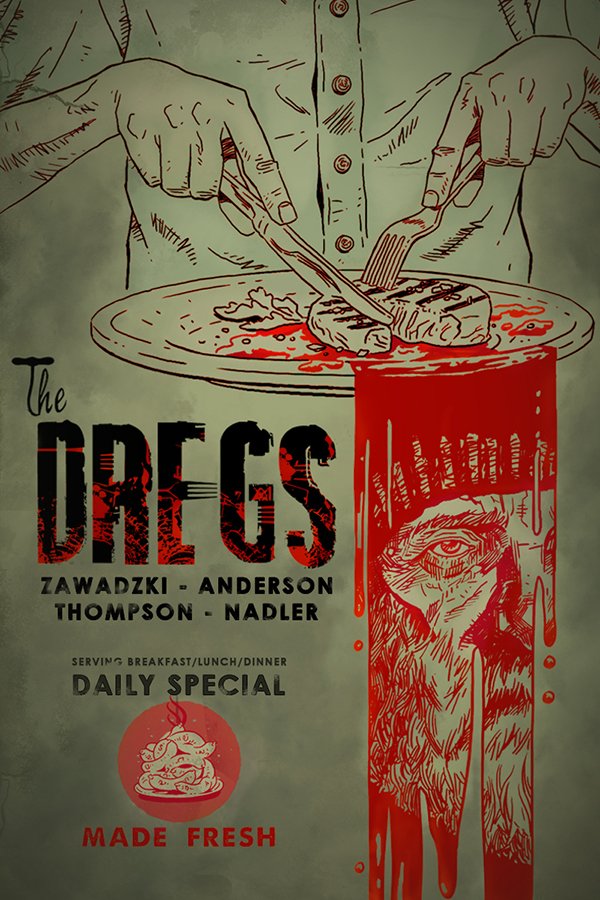 The story starts off with quite an opening that you're likely to be thinking about long after you put down the first issue. The Dregs looks like it's going to be tackling some real world issues as we see the hip yuppy filled city from the eyes of the people who actually live within it's darkest corners. For me I'm seeing a lot of what's happening within the pages of this debut issue happening for years within my place of residence Portland, Oregon. People have been being pushed out of their homes now for year and recently at a more alarming rate that ever before. Many cities all over are getting complete makeovers, filling quickly with shiny boutiques, high priced coffee houses & hip over priced restaurants. The wealthy are flocking to places while  housing and rent prices have shot through the roof. Continue reading →