I'm a huge fan of vintage heavy metal album covers and right here we've got one of the best Marvel Comics covers that, let's face it, is totally metal! It's also one of the most ironic pics of Ghost Rider, in all of his bad ass glory, easily one of the most unique Marvel superheroes, too bad Nic Cage's portrayal in not one but somehow TWO movies! Well regardless, this here was a cool era of The Defenders: Doctor Strange, Valkyrie, Hellcat AND the Son of Satan?! Damn I love that weirdo! This awesome issue came out way back in 1981 and the cover art was done by Michael Golden! Ghost Rider at his most bad ass!

So it seems that the Marvel Netflix shows have run into some problems recently with the cancelation of the Iron Fist and Luke Cage shows as well as the low viewership of the third season of Daredevil. The prospect of a second season of 'The Defenders' is certainly not in the cards anymore either. So with that being said could it be possible we just might get the classic comic book incarnation of the iconic team sometime in the near future? This new Netflix version of the team kinda bothered me, using the name when indeed, these characters never banded together in the comics (a couple briefly joined the ranks in the comics at different points in time) at least before this series was announced. It seems possible that a movie version of the team could indeed happen as Marvel Comics is reviving the original characters as The Defenders once again next month! A couple of the characters to complete one of the most classic versions of the team already exist in the Marvel cinematic universe, so banding the Defenders for the big screen would be pretty easy and thrilling as well while being able to add some awesome never before seen characters from to Marvel Cinematic Universe onscreen to the team.
We've already got some of the classic members in the movies, Doctor Strange & The Hulk/Banner are all ready to go cinematically. The pairing of these two existing core members for an insane cosmic/multi-dimensional adventure would be most excellent to see materialize on the big screen.
It's Halloween officially today and it's time to take a look at some of the creepiest superheroes of all time. We all know most superheroes are usually super pretty, handsome & wholesome, but not all of them folks. There are some creepy heroes out there willing to put their necks on the line for the earth against evil. They're not enough of them in my opinion this Halloween let's take a look at a few that deserve their time in the spotlight!
The Son of Satan 
Yeah sure the Son of Satan is a bit of a pretty boy but hey who cares he's the muthafuckin' son of the damn Devil!! Daimon Hellstrom appeared way back in 1973 in Ghost Rider and started out as an occult investigator and exorcist. This guy is legit and even battled his dad a few times too. He had a tough time getting used to living among humans but hey props to the son of the devil for giving it an honest shot!
Lilith Drake
Here we have another sibling of evil, Marvel's Lilith Drake is the daughter of Dracula and she vowed that her life goal would be to kill him! She's a bit of a confused character for good reasons and has clashed with other superheroes while trying resist her blood lust. She's also though teamed up with the likes of Brother Voodoo and Doctor Strange. At the end of the day you just really don't wanna mess with Dracula's spawn because you can never be sure what type of mood she'll be in when you cross paths!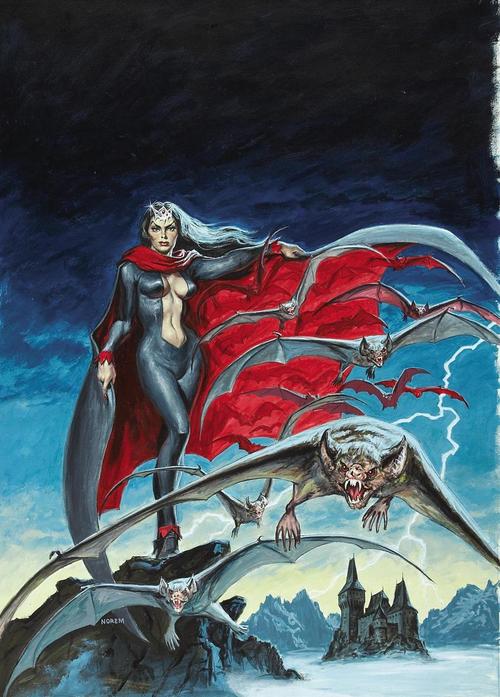 Brother Voodoo
I love Brother Voodoo, he appeared way back in 1973 and he's gone down in Marvel history as Doctor Strange's equal. With a real name as cool as Jericho Drumm it's clear this guy is the real deal. Where ever there's some creepy as shit going down you can bet Brother Voodoo isn't far behind. In 2009 he replaced Doctor Strange as Sorcerer Supreme, Brother Voodoo is legit and needs more love in the Marvel Universe.
Spawn Continue reading →