Rise of the Back Flame #1 is another totally solid debut straight from the Mignolaverse. This one traces the origins of the legendary villain, The black Flame from the pages of Hellboy/BPRD and gives us an excellent set up for an intriguing jungle horror adventure that I'm sure Indiana Jones would most certainly sign up for. The setting is Burma and there's been a series of disappearances of young girls that the locals believe to be the devilish work of a near by cult.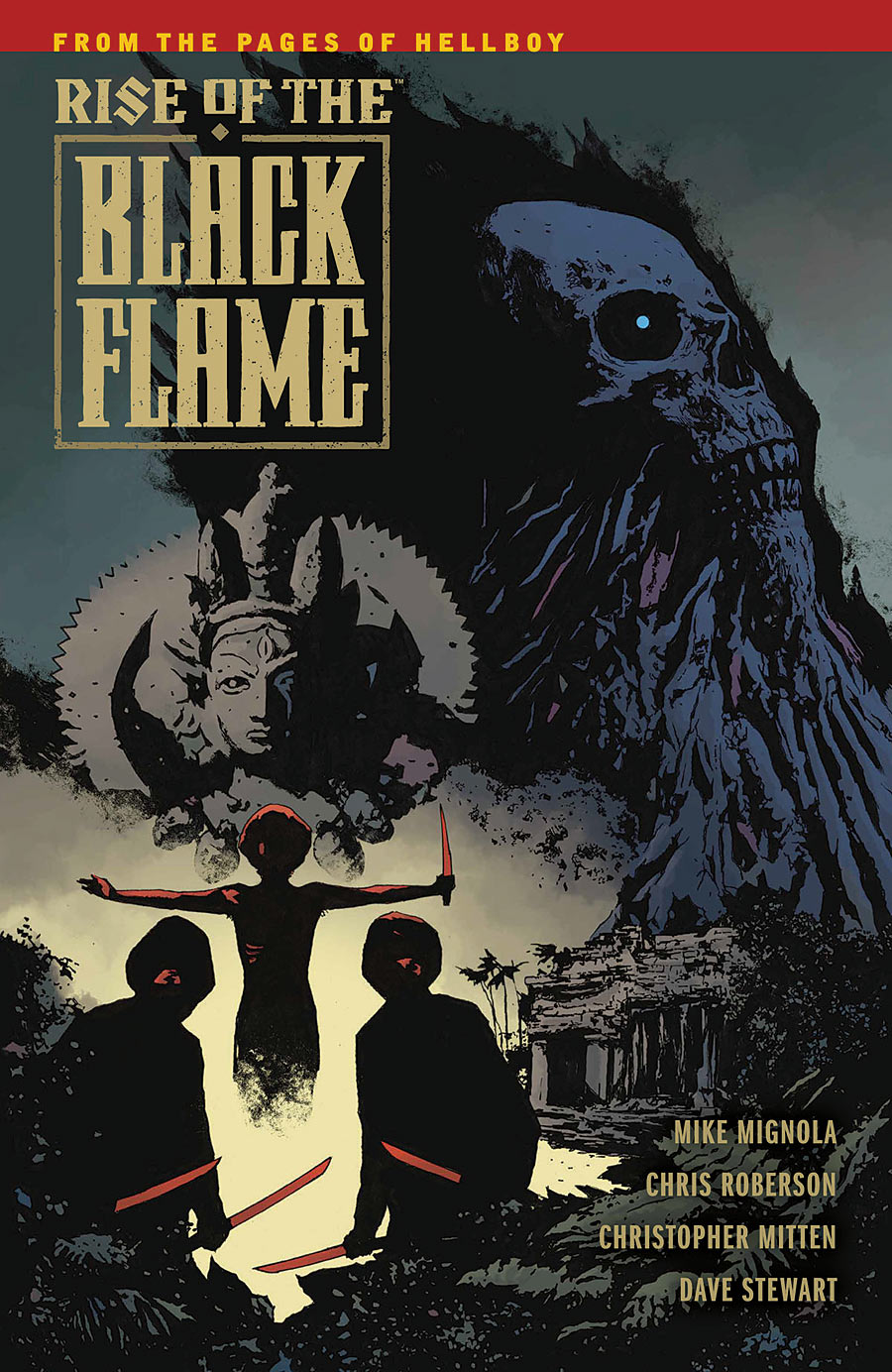 On the case are two Brittish detectives who're on the case searching for clues, quickly meet Sarah Jewell and Marie-Therese Lafleur who tell them they've got an expedition set up to find the Temple of the Black Flame. Sarah Jewell goes on to tell them of some of her incredible supernatural adventures she's shared with The Witchfinder himself Sir Edward Grey. I'm getting the feeling we'll be seeing much more of these characters in the future of the Mignolaverse….if they can survive this expedition that is. 
Here we have again everything I love about reading comics, grand adventure set in exotic locales with a supernatural mystery brewing. Like I've said before Mignola's books to me are the best on the scene, whether it be Hellboy, BPRD, Witchfinder or Lobster Johnson. They're always a helluva great time to read and are all connected by a deep lore that's been running strong for decades. So here we have the opening of another chapter in the saga and a true prequel for fans of the villain of the BPRD's 'Hell on Earth'. I'm certainly going to be back for issue #2 as it's bound to be filled with some excellent storytelling and some creepy jungle adventure, for a good time check out this debut!  
It's been a loooooong time since I've picked up anything new by Marvel in the comic book department, but this week I couldn't resist when I saw the vintage logo of Power Man and Iron Fist on the stands. Marvel comics for me have become a bit of bland reading experience, often times the art's pretty subpar and at 4 bucks a pop shit better be really fucking impressive! I'll say it again once comic books reach the 5 dollar cover price I'm done. However this week I was lured by that nostalgic old logo and couldn't resist giving this new series that unites Luke Cage and Danny Rand for some street smart retro style adventures in the big apple.
I was actually pretty impressed with this new series which thank god isn't trying to reinvent the wheel. Most Marvel titles are monthly changing superhero genders, races, characters etc etc blah blah. Don't get me wrong I am all for those changes if they're part of a creative story but lately it seems Marvel is simply trying way too hard to change everything to cash in on modern trends on social media. Sometimes keeping things simple and somewhat familiar really is the best way to create a meaningful story. We've got some witty writing here from David Walker that's filled with nostalgic throwbacks to their heyday when Luke "Power Man" Cage used to sport a shiny silver tiara  and the two used to be partners in their small biz "Heroes for Hire". Luke Cage now a family man with Netflix's latest sensation Jessica Jones is being tempted by Danny "Iron Fist" Rand (now a bit more wise cracking than usual) to "get the band back together". I also totally love Iron Fist's new version of his costume, harking back to Bruce Lee in Game of Death.

Luke's resistant to the idea and Jessica even more, so Rand claims she's got Luke "on a short leash these days". When their former Heroes for Hire office manager gets out of prison they agree to do her a favor and retrieve a family heirloom stolen from her years ago. Sounds simple enough? Well turns out the albino super gangster Tombstone has it. I've gotta admit too I've always been a big fan of Tombstone and hopefully we'll get more of the big stark white weirdo dude as he's disposed of far too easily. Come on now Tombstone is a total bad ass!
The issue delivers a lot of promise  for the future though with cool but heavily stylized artwork from Sanford Greene that some might love and others could easily be turned off by. It works for me though, I really dig it and it's perfect for the more comedic tone so far of the series. I like simplicity of the story and also the smallness of it all, I really do like my comic stories kept on a personal level most of the time. It's been a while since I grabbed a Marvel comic but this one seemed like a much safer bet than say something  like the completely wretched "Totally Awesome Hulk" series or whatever million of the Deadpool books are floating around on the shelves these days. I'll be back for issue number two for sure as it's nice to see the boys are back in town once again…  
What do you think? Am I missing out on something truly awesome from Marvel these days woth the cover price? If so please enlighten me!! 
Ok first off let me tell you there's SPOILERS here, so if you aren't caught up with the series stop reading now! Ok then, yesterday I read the final chapter of the "All Out War"  twelve issue story arc of The Walking Dead. First I am going  to state that the finale did not go the way I predicted it would which is actually a good thing. However, it seems to me that the series is stuck in the mud at this point. It has been for a while I think. This finale didn't really offer up any real excitement, what I did predict was that Rick's slicing of Negan's throat in in issue #125 was certainly not going to be fatal. I enjoyed the fact that Rick is letting Negan live and trying to push the world in a better direction, trying to fix the mistakes the previous world made with war, revenge and killing. Very admirable Rick. However now that he has Negan as a prisoner that means that we're going to have to have that character around for even longer!
I've heard from many people that Negan is their favorite character, that "he's like the greatest villain to ever grace the pages of a comic book". To me he's unbelievable, annoying and just not that interesting. So I guess now what we're most likely going to see is the gradual change of Negan from a villain into a part of the crew. I am guessing that he's going to develop into some sort of anti-hero. That being said, where can Kirkman really take this series? Are we going to meet another Negan/Governor? I'd say that's likely. To me though that's also a bit boring.
I'd like to see this book go in some new directions dammit! Let's face some new threats that aren't a bunch of asshole humans, add some mystery to the book, search for other people in other parts of the world-I mean isn't anyone interested in what might be happening elsewhere on another continent? Wouldn't finding a plane be a priority? Or chartering a boat? I'm just not that interested in seeing Rick become the next President of the USA!! What do you think? Are you all satisfied with the direction the book has been stuck on?