This week the final installment of the first arc of 'We Can Never Go Home' hit the stands with issue #5. It was a great finale filled with a ton of well placed twists and turns. This also just might be my favorite new title of 2015. We've been following the unpredictable exploits of teen runaway misfits Duncan & Maddie for only five issues but hell, what an adventure it's been so far.
The series takes place back in the late 1980's a time I remember quite fondly as a kid/teen growing up, so perhaps I'm just a little more than partial to this tale from the start. It's also a series that involves 80's references galore and even more so in the realm of underground music & punk rock of yesteryear. Mix that with some seriously deep in serious shit troubled teens on a road trip that seems to get more dangerous with ever mile traveled  and you've got quite an intriguing story.
The final issue comes to a blood soaked boiling point to a once seemingly innocent start of budding teen crushes. The final issue pulls no punches a lot of questions are finally answered and maybe not quite in the way you might have hope they'd be. That's fine though as a truly great story never really wraps up the way you think it will. This last issue takes place in the compound of this first arc's villain, Mr. Carroll, where he's trapped Maddie and Duncan and tests their "superhuman" abilities.
Certain aspects of this final issue might piss you off, you might suddenly find yourself questioning some of our lead characters motivations in this series. Ultimately though this dynamic conclusion delivers on all cylinders, (with some excellent artwork to boot by Josh Hood) and I already find my self ready to read it all over again.
It also has me quite ready for more which we can expect in 2016. So if you haven't checked this out yet I advise getting the trade when it hits as the individual issues are hard to track down and going for a pretty penny online. This series makes the $3.99 price tag on comic books these days feel not quite so sleazy. "We Can Never Go Home" is a full on home run. 
I had to put up some of these awesome variant covers for one of my favorite comic books out on the scene right now- We Can Never Go Home. Being a big fan of classic punk rock I can't say enough about how cool these are. If you haven't checked out the book yet it's a super fun read and set back in the 1980s. They've been doing some various variant covers in the theme of classic 80's punk rock album cover. Here's are the comic book covers along with the  album covers they're based on! Get this book from Black Mask Studios and yeah if you haven't already – get these albums!!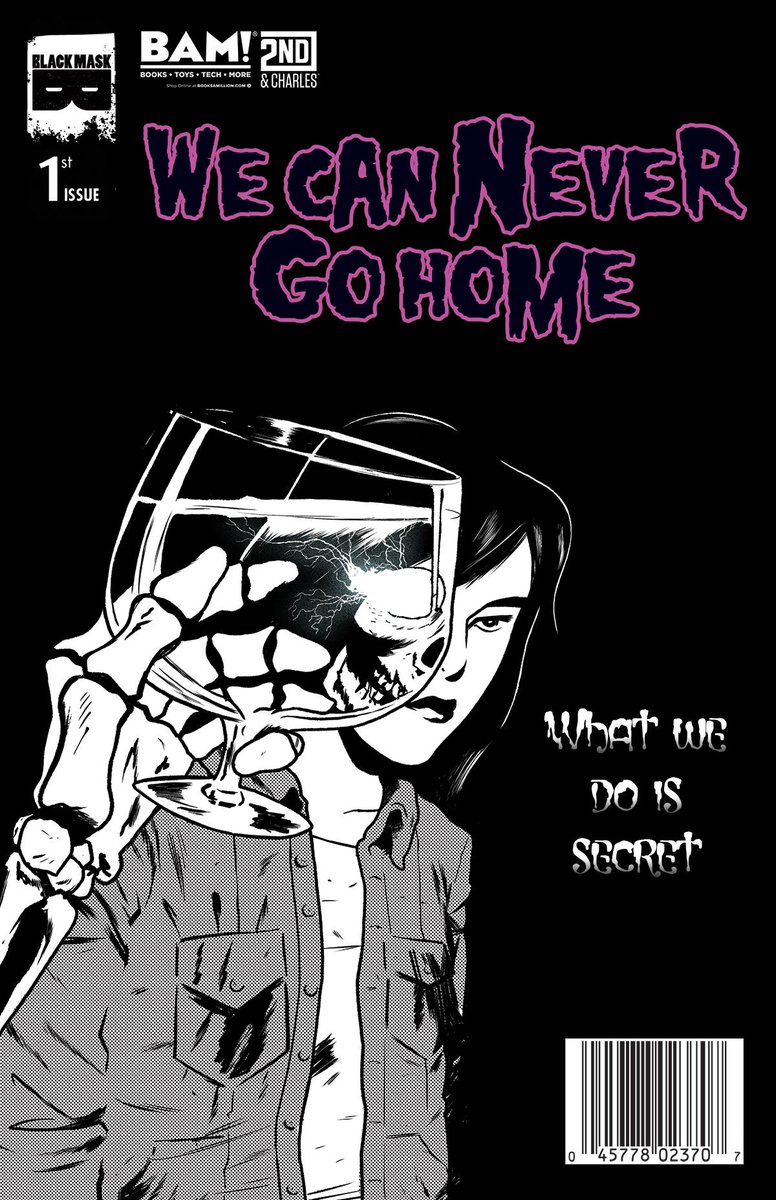 Oh how I love the 80's! There's something truly unique about that decade and even more so to me, having grown up in that era. That might be one of the reasons why I am loving 'We Can Never Go Home' from Black Mask Studios so much, it really holds some serious nostalgia within it's pages. In the late 80's I was probably just about the same age as these characters in the book and was fueled by things like skateboarding, punk rock and well for me…girls. This series is set in 1989 and feature two characters who somehow seem like long lost characters from my childhood, only these two teens have something other than just raging hormones pulsating through their veins, they've also got some strange superhuman abilities. So what's so unique about a story with some teenage misfits with dangerous mutant like powers you might ask?
Well writer Matthew Rosenberg pulls no punches and at issue #2 we see our two leads getting into a boat load of serious, serious trouble. Imagine if you were a teenager with raging hormones and you had a peculiar case of superhuman strength or could kill someone with your mind? It'd be a dangerous scenario and after our two troubled teens Madison & Duncan become friends it becomes quite an unholy alliance. With Madison sending her boyfriend crashing through a car window after he picks a fight with a loner punk rocker Duncan, things begin to get  real messy real quick. Soon these two find out they have more in common than they ever imagined.
After one fatal move the two are bound to never go home and head off on a road trip that by issue number two will have you gasping for air. These two teens just seem to get deeper and deeper into a tangled web that could easily cost them and anyone they care about their lives. So what better solution than stealing a car and robbing the local drug dealer of all his cash huh?
I'm also loving all of excellent references to old punk rock, mix tapes with everything awesome & confusing about being a teen in the 1980's. It's clear Rosenberg himself is a fan of the era and he captures the heart of a great rebellious 80's flick within the pages of his book, which isn't an easy task. I can already see this series transformed into great tv series or movie, kind like if 'Heathers' and 'Firestarter' got together and had lovechild.
So in a time when superhero books leave you feeling a bit empty inside it's nice to know we've got a true alternative to the genre and one more exciting road trip left to go on with that awesome girl (or boy) that may have have got away many years ago. Just make sure to bring that totally rad old mix tape on this ride because is gonna get epic and most definitely deadly…