I read a cool little debut issue for Dark Horse's new series Black Hammer by Jeff Lemire & Dean Ormstom. This comes at a good time for me personally as I've been seriously missing a good solid superhero comic book to read. I've more or less given up on the Marvel & DC universes at least for the time being as it feels a little too fan calculated these days. So here on the shelves was a new series featuring a weird story about a team of retired superheroes who for ten years have been forced to live in rural small town somewhere presumably in the USA (though they may be somewhere else entirely). The team disappeared and have been thought dead since their victory in a giant battle to save the planet. 
So here they sit all reacting differently to their predicament as they share a house as a "family" on a farm. Some enjoy the quiet life while others are obviously feeling trapped. The interesting thing about the first issue is the mystery of where exactly they are, how they got there and why they for some reason are unable to leave. I highly doubt this quiet life will continue on this way for too long.
For the time being though this first issue delivers the intrigue as we realize one the children of the superheroes, working as a reporter, seems to be getting ready to try to figure out just what happened to them all. The comic is a solid first issue that brings along with it enough gusto to inspire me to drop another 4 bones on the second.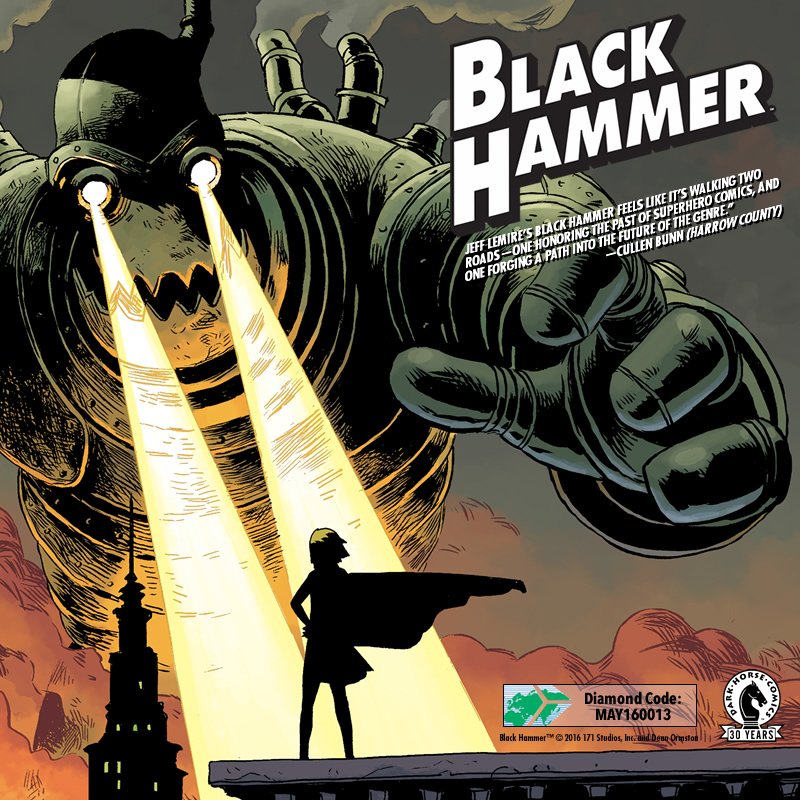 Artist Dean Ormstom also brings some serious character with his unique art that would fit in perfectly in books like Hellboy & BPRD. So if you're looking for something different than what the "big two" are churning out these days this is a great first issue worth your hard earned cash.
Bernie Wrightson is easily one of the BEST artists ever in the world of comic books and fantasy. If you want a monster drawn right in an eerie landscape he's the man for the job. Which is why he most likely drew this weeks cover of the week.
The Incredible Hulk #197 has got the Hulk facing off against another of Marvel's classic green behemoths Man-Thing! This issue back from 1976, when comics where only a quarter (gasp!) features these two brutes going toe to toe, of course though the evil Collector has something to do with with this deathmatch! Wrightson was well know for Swamp Thing so it's a treat to see him pencil the mighty Man-Thing and the Hulk. Wrightson would later return for the classic Hulk & Thing team up graphic novel from 1987 "The Big Change" another awesome monster filled story…