So it seems that DC is really giving the whole R-Rated comic book cartoon thing a shot these days and after seeing how The Killing Joke turned out I'm really pretty skeptical. The Killing Joke movie should have been amazing, it really didn't need to be a full feature film either. It could have worked as 45 minute short flick. It really tried way to hard to flesh out Barbara Gordon with a flimsy story that had little to do with the plot of the comic and an unnecessary "racy" sex scene with Batman (to give it that edge it thought it needed for some reason). Pair that with some pretty flat animation and what you've got is a totally forgettable cartoon adaptation to steer clear of.
  Well now we've got another attempt from DC to get gritty with the animated Justice League Dark. Normally I'd be super pumped on the idea but after that Killing Joke cartoon I'm wondering if the R-rated cartoon is something DC really is really excelling at? There've been some attempts from Marvel to make more adult friendly adaptations over the years that were honestly pretty forgettable as well, so I'm not just faulting DC.
  An animated Justice League Dark film should by all means be something to be truly excited about. I think the people behind these animated features should be putting some serious time behind the artwork and the detail of it all. They should be producing animation with quality and perhaps even adding more frames for a much more impressive outcome. It seems though the animation isn't much better than a standard Saturday morning cartoon. The quality should shine in 2016, these animated comic movies should be easily on par with the classics. Think of Akira, Fire & Ice or The Secret of Nimh, these were animated movies that were unforgettable. There's no reason why Marvel or DC can't be creating true animated superhero classics. From this new trailer I'd say it looks like we might be in for another mediocre slice of R-rated animation. What do you think?   
It's Halloween officially today and it's time to take a look at some of the creepiest superheroes of all time. We all know most superheroes are usually super pretty, handsome & wholesome, but not all of them folks. There are some creepy heroes out there willing to put their necks on the line for the earth against evil. They're not enough of them in my opinion this Halloween let's take a look at a few that deserve their time in the spotlight!
The Son of Satan 
Yeah sure the Son of Satan is a bit of a pretty boy but hey who cares he's the muthafuckin' son of the damn Devil!! Daimon Hellstrom appeared way back in 1973 in Ghost Rider and started out as an occult investigator and exorcist. This guy is legit and even battled his dad a few times too. He had a tough time getting used to living among humans but hey props to the son of the devil for giving it an honest shot!
Lilith Drake
Here we have another sibling of evil, Marvel's Lilith Drake is the daughter of Dracula and she vowed that her life goal would be to kill him! She's a bit of a confused character for good reasons and has clashed with other superheroes while trying resist her blood lust. She's also though teamed up with the likes of Brother Voodoo and Doctor Strange. At the end of the day you just really don't wanna mess with Dracula's spawn because you can never be sure what type of mood she'll be in when you cross paths!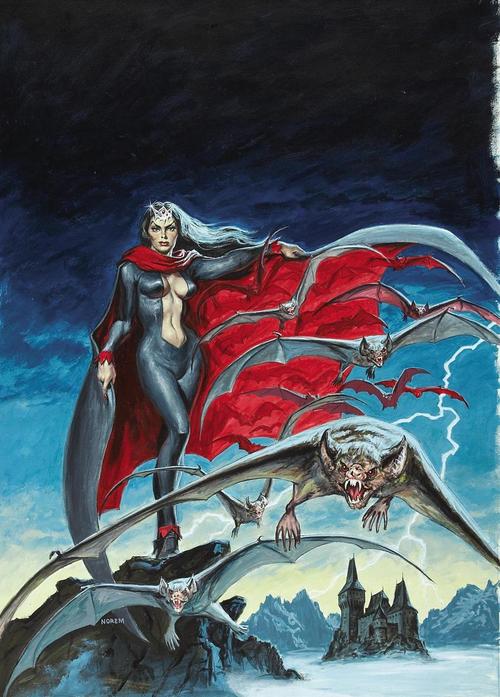 Brother Voodoo
I love Brother Voodoo, he appeared way back in 1973 and he's gone down in Marvel history as Doctor Strange's equal. With a real name as cool as Jericho Drumm it's clear this guy is the real deal. Where ever there's some creepy as shit going down you can bet Brother Voodoo isn't far behind. In 2009 he replaced Doctor Strange as Sorcerer Supreme, Brother Voodoo is legit and needs more love in the Marvel Universe.
Spawn Continue reading →
Bernie Wrightson  is the king of the macabre and Swamp Thing was the perfect comic book for him to display his talent of  drawing all things that go bump in the night. If you have a monster that needs drawing Bernie is most definitely your man for the job! Here's an incredible full cover featuring the Swamp Thing going head on with some dark creatures of the night way back in 1977. This is really a perfect example of why Bernie is one of the greatest comic book illustrators ever.
Hopefully cinematic DC will take notes here when they begin 'Dark Universe" with Doug Liman attached to direct. While most of the details are being kept under wraps, the plot revolves around a darker Justice League team that consists of John Constantine, Swamp Thing, Deadman, Zatanna and Etrigan the Demon. Hopefully DC won't mess this up too. I won't hold my breath but I've got to say I'm terribly disappointed that Guillermo del Toro is no longer attached to direct. But I mean really, how bad could they mess it up?! Hmmm…..