Ok, so my title above is a bit misleading because as of right now there's not currently rumors about Jonathan Ke Quan returning to the role of "Short Round" for the upcoming Indiana Jones Part 5. BUT let's start that rumor here because maybe it will catch fire on the web and actually happen!
So this whole idea really began the other evening when I saw the amazing 1991 movie 'Breathing Fire' starring Ke Quan as a teenage ass kicking kung fu machine. If you haven't seen this movie and love his roles in Indiana Jones and Goonies you best check this one out asap. Seriously. Movies rarely reach level of pure fun and some great over the top kung fu! He even faces off against the legendary Bolo Yueng and it's just jam packed with amazingly awesome & hilarious retro action cheeze. Seek this one out asap. The full movie can be found on Youtube.com!
However I digress, Ke Quan's acting career ended in 2002 with the Hong Kong sci fi feature film "Second Time Around" so he's not exactly been focused on acting lately. As you can tell from the previous Indiana Jones and the Kingdom of the Crystal Skull Speilberg is heavily focused on nostalgia from the previous films as one of the key moments is the return of Marion Ravenwood. So in this next installment how amazing would it be to have Indy once again team up with his buddy Short Round on another adventure?
During filming 'Temple Of Doom', Quan studied Tae Kwon Do under film choreographer Phillip Tan. Something about the discipline of martial arts really appealed to him, so he began rigorously studying many different techniques. Once his acting career had become more quiet, Quan became an assistant fight choreographer to Hong Kong legend Corey Yeun on movies like 'X-Men' and Jet Li vehicle 'The One'. Ke Quan now is 45 years old, has kept himself in great shape and could likely bring his seasoned martial arts exploits into the next Indy flick with pure adoration from longtime fans. He's even been asked more recently from fans about appearing in part five answering with an enthusiastic "I don't know!". From what I understand he's also down for a trip down nostalgia lane for the forever talked about Goonies sequel. So this here is all a real possibility considering Indiana Jones part 5 is indeed happening for sure.
I've got high hopes for the next Indy movie, I enjoyed the last one but I'll agree it's far from perfect and nowhere near as classic as the first three. Still this next movie is likely Harrison Ford's last as the character so Speilberg will get one last shot to right the wrongs of the last movie. Ditch the ridiculous CG you promised you weren't going to use and give us something that truly feels like a classic Indy movie and please leave Shia Labeouf's Mutt Willaims at home. Let's feel the nostalgia and let's see Jones & Short Round team up once again, I know that fans would flip their shit if this was worked into the movie and it'd make sense that a fully able, older Short Round could help Indiana Jones kick some butt this time as our aging main character likely needs all the help he can get this time around. What do you think? Would you like to see Johnny Ke Quan return? If so share this post and let's make it happen!
Here's funny little team up that went down back in 1998 and happens to have a cover I think is deserving for a spotlight if not only for how odd the whole idea is! The X-men appeared along the cast of the Star Trek: The Next Generation for this 64 page one shot, something many people have forgotten about or perhaps just never even considered existed. But there was of course a small demand by some fans to see these guys team up against not only the Borg but also the Sentinels! This cover features artwork by Cary Nord and Scott Koblish check it out…
There was also an alternate cover too: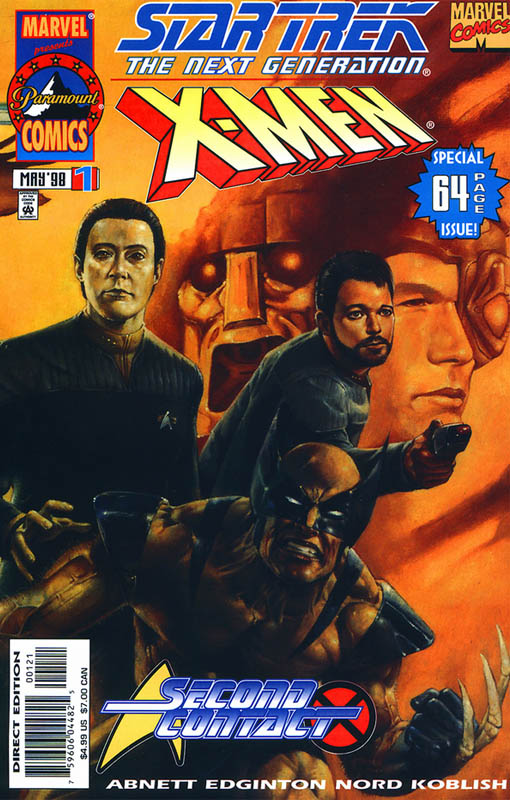 Now only if we could have had the X-men team up with the original crew right? Well they fucking did that shit too in 1996!
Yeah and we even got to see Wolverine and Spock tangle a bit- so there's that! Seems like Spock just may have served Wolverine his ass on a platter if really pushed to the limit-non-berserker Vulcan style!
Wow…slap in the face is an understatement on this one folks. In case you are not aware, ancient carrier pigeons are still faster than some of today's methods of carry high volumes of data. According to BiongBiong.net, a South African IT company got so fed up with the national Telkom's notoriously poor Internet service that they decided to set up a race that pitted the Telkom's network against a carrier pigeon. Yeah, and the pigeon won.

Continue reading →